Sales and Service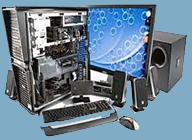 Are you looking for a reliable Computer service provider in kollam, Kerala?? Then, G S N Technologies is the right choice and provides a one-stop shop for all your computer hardware problems.
G S N Technologies supply only perineum components and quality based Assembled computer. G S N T will not supply low cost Computers and peripherals . we are using Cooler Master's Cabinet and SMPS for most of the assembling. G S N Technologies assemble Server computer and Desktop Pcs. we provides 3 year maintenance warranty and support to our clients in different manner .
We supplies
Cooler master – Cabinet / SMPS / CoolPad /
HP – servers/PCs/Printers/Scanner/Cam/
IBM – servers/storage/ RAID
iball      – Cabinet / SMPS / Keyboard/ Mouse/ Cam
Zion     – RAM / Mother baords…etc
ASUS – Cabinet/Board/Laptop/Networking
Genius- Keybaord/ mouse/Cam/speaker….etc
Intel    – boards (server and Desktop)/ processors/LAN…etc
Samsung- Monitors/Laptop/panel….etc
LG – monitors/
Epson – printers/projectors/cables
Dell – Servers/Laptop/PCs/projectors/
Logitech – keybard & Mouse  / Speaker/cam
V-guard – UPS
G S N Technologies recommended our clients to choose only medium range products and parts. This will reduce service issues and  stability problems.